By Dan Gleiter | dgleiter@pennlive.com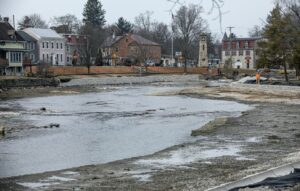 The rebuilding project at Children's Lake, which has been closed to the public since the middle of September, is continuing on schedule through the winter.  The project includes building a new dam, spillway and retaining wall for the six-acre lake, upgrading the Pennsylvania Fish and Boat Commission's boat launch at the lake and add an ADA-compliant fishing pier that is expected to be completed in about a year.  "This mild winter weather has really helped with the progress," said Pa. Fish and Boat Commission spokesperson Mike Parker.  "Things that might not have been able to happen (such as excavation) has allowed work to continue that otherwise would have stopped for a while."  The lake has been drawn down for the project, and the commission noted that "trespassing into the active construction zone, including the dry lakebed, at any time, is a safety hazard and is strictly prohibited."  The lake, the boat launch and portions of the surrounding park will be closed during the project.  The trail along the northeastern shore of the lake, which is part of the Appalachian Trail, will remain open.  "At this point the project is considered to be ahead of schedule, and we estimate it at about 60% (completed)," Parker said.  He said the timeline for reopening the lake is summer or early fall 2023.  Trout season 2023 will be forfeit at the lake, which is a magnet for crowds of anglers on the one-day youth fishing day, the first weekend of the general trout season and whenever trout are stocked.  In June 2016, a sinkhole appeared near Bucher Hill Road, which runs adjacent to the dam. Seepage and structural deficiencies were subsequently discovered in the existing dam.
Construction at Children's Lake provided by contractor Charles J. Merlo, Inc. of Mineral Point, PA.
Children's Lake Penn Live Article PDF
https://www.pennlive.com/life/2023/02/see-how-childrens-lake-43-million-rebuilding-project-in-boiling-springs-is-progressing.html